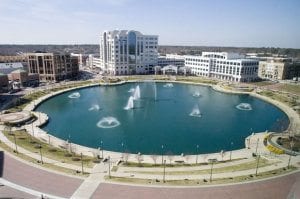 When looking to improve the appearance of your commercial property by hiring a Newport News pressure washer, it is important to consider a few things. Newport News is uniquely situated with bodies of water to the east and west. This allows for moist air that is heavy with substrates to settle all over your property.
While many pressure cleaners will use abrasive detergents and harsh chemicals to remove these deposits, have you considered their impact on the environment? If these chemicals are allowed to run off to storm drains they can ultimately make their way to the ocean, with devastating consequences.
At Eco Technologies, we endeavor to collect our waste water and only use bio-degradable detergents that won't harm the environment. We offer a full suite of commercial pressure washing services in the Newport News area. Our results speak for themselves. Restaurant or parking lot, our job is to provide the best pressure washing services available while caring for the environment at the same time.
We service many commercial structures, including:
Automotive Service Center Pressure Washing
Car Wash Pressure Washing